Boudoir Coterie is happy to announce our new Petite Sessions!
WEEKEND SESSION DATE!!
Normally sessions take place on a week day but we have just launched our first Petite session date for Saturday, Aug 16th 2014!!
———
Petite sessions were designed to make a Coterie session available for those on a tighter budget. In order to make this possible many of the perks of a full session will not be available, but you will still be able to enjoy a pampering boudoir experience.
Please read through all of the following information as you'll find most if not all of your questions answered. 
So what is a petite session you might ask?
A petite session is a 20 minute, one look thrill ride of sexiness! It's a stripped down version of a full session, no pun intended. These Petites can make for a fabulous Beauty or headshot session too! I figured it might be easiest to show you with this chart, the difference between a regular and a Petite session.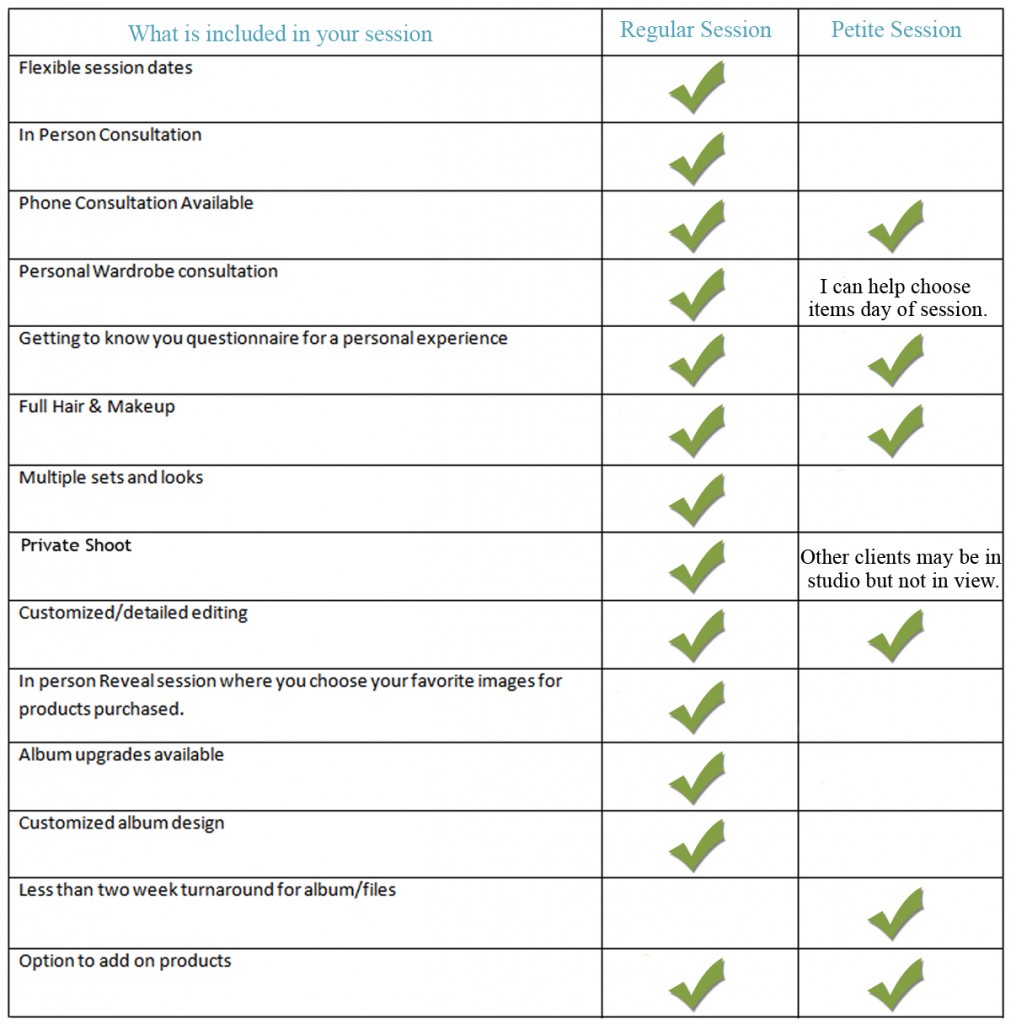 So here is a more detailed explanation of how a Petite session works:
Petite sessions will be available for only one day per month.  There will be four session times available on that day.
Petite sessions must be booked two weeks prior to session date. No exceptions.
Petite sessions are all inclusive and must be paid in full one week before your session date.
You will have the choice of three packages to choose from.  An album, digital files and an album with digital files.
Full hair and makeup will be included in the package price, however your shoot will take place while a second client is in hair and makeup unless you are the last client of the day. Because the studio is actually one large room you may be able to hear what is going on with the other person but your shoot will take place behind a privacy curtain.
Petite sessions are 20 minutes in front of the camera with one look.  This could be a sheet set, lingerie, or any other sexy outfit you own. There will be no option for a second look. If you are unsure of what to wear bring multiple options and I will help you choose prior to starting the shoot.
To save time and money there will be no reveal for petite sessions.  This means that I will choose the 10 best images to edit and present to you in your 4 X 6 album black leatherette album, digital files or both.
One of the biggest perks of a petite session is having your product in hand in less than two weeks!
Upon delivery of your product you will have the option to purchase additional items.  For example large prints, canvas, metal prints and additional albums.
 
READY TO BOOK?
 

 
Frequently Asked Questions
Why are these petite sessions only available one day per month?  In order to keep our costs down, doing them back to back once a month enables us to offer Petite sessions.
Why can't I book a last minute session if there is still a spot available?  In order for us to have a fast, 1 week turnaround, I need to have the product pre-ordered and ready to go.
Are payment plans available on petite sessions?  Payments may be divided up between the day you book up to one week prior your actual session date. Full payment is due ONE WEEK before your session date.

Can I add a second look for an additional cost?  No, if you're needing additional looks then a full session would work best for you.
My skin is very pale, should I tan before my session?  No.  Regardless of how you tan, natural, spraying or bed, the camera picks up tanned skin tones as orange.  This can be a bit of a nightmare when editing.
Why can't I choose my favorite 10 images?  In person reveals cost me time and money.  Petite sessions are designed for a smaller budget and speedy turnaround time. It is rare that clients don't like images shown from their session.  I promise to choose the images that I feel are the most flattering and beautiful from your session! If you want full control over which images are selected for your final product then a full session would work best for you.
I'm confused about it not being private, does that mean people can see me being photographed? The Boudoir Coterie Studio is one very large room. In order to save money and offer these sessions at a discounted price we need to schedule these sessions back to back. This means they will slightly overlap and it is possible that your shoot will take place while another woman is in hair and makeup. I assure you that no one but myself and shoot assistant will be able to see what is going on with you, however the partitions are cloth and paper backdrops so it may be possible for others to hear what is going on. Most times the Makeup artist and client are having their own conversation though and not paying attention to us. Again, other clients will not be witness to your shoot, just in another area of the room.
Will these shoots always be on a Thursday? No, every month I will switch out the days between Mon, Tues, Thur & Friday. They will always be on a weekday morning.